Slack – Support for the future
---
Slack is a $20bn messaging app. That flippant summary does not do it justice, Slack is a modern, secure, cloud-based enterprise collaboration tool, where you bring people, ideas and tools together in one place. Doesn't that sound dandy?
With apps for all popular platforms, Slack is always there to connect you with your team – and it's ready to scale to your needs. Sounds pretty good, right? Don't take my word for it, get on Google and you will see positive stories from major organisations about how they happily use Slack to bring information together across departments and offices. Plus, the cool cats at IBM use it now, so it has to be good, right?
The majority of Slack users probably use it internally to work on projects, make company announcements (handy for remote workers) or just to share pictures of your fur babies sleeping on your Macbook in the #cutewoofers channel.
Can Slack work as a channel for technical support questions?
Traditional support is via email; you write in, you get a ticket number, and someone deals with it. Everything is audited, safe, clean. Then "live chat" came around and it added a bit of stress, phones were ringing, tickets were being updated and someone in real-time needed help, so something got neglected. The UI's for live chat didn't help when it came to getting screenshots, logs, or videos of the issues either. Then more recently, we have companies using Twitter and Facebook for help channels. Those work pretty well from a CS POV – "Where is my dog treat order?" or "Do you ship to Venezuela?", but for tech questions that will require context and some back and forth, it was not the best experience. Here at Selectec we try and keep it simple, our ticketing system is best-in-breed, and we operate a modern VOIP-based phone helpline.
But… (and the whole reason why this is being written) over the last few years we have been nudging our partners towards the slick and easy to use Slack platform.
We started small and tested it with a few brave partners, we made it clear it's for those throwaway questions "Does PaperCut embed on an MPC304?", "Can I install a site server on Windows 2008R2?" or "Can Square9 do X?" We were (initially) worried about two things…
Questions getting lost in the flow of the chat or partners getting impatient if we were distracted/busy with other problems. If you use real-time chat, then you would expect a fairly quick reply, right?
If the query got tricky and involved log file analysis or if we needed to collect extended information, then a support ticket may be better suited.
Well, it turns out we were just overly sensitive. Let me assure you… Slack is the *insert whatever the cool kids are saying now*. Our tech teams (support, pre-sales, pro-services, installers and integration specialists) all engage in real-time with our partners. While it is really useful for throwaway questions, it is also used with speed and confidence for anything tricky from a support POV or even tender replies. If someone with a problem on-site during an install can whip out their smartphone and load the Slack app and get help, then that has to be a service worth providing.
We all learn
We like to think of ourselves as a teaching hospital: Education is vital for success, and we want to empower our partners with everything in our heads. One bonus of this method is our partners can see our train of thought as we troubleshoot and hopefully that will assist them in the future with other issues. They already know what we will ask, so will hopefully save time on the next problem.
Plus, if one person at an organisation asks a question, anyone from that company in the Slack channel will see it and (hopefully) learn something new. Education, education, education!
We also have a general channel and have found resellers helping each other out, which is awesome to see as we're now effectively building a real-time support community for our partners.
Proactive Alerts
We can also keep our partners up to date with issues as and when they crop up. If we notice a new problem in the software (or if a customer tells us about one), then our partners will know soon after we do. This keeps support tickets to a minimum.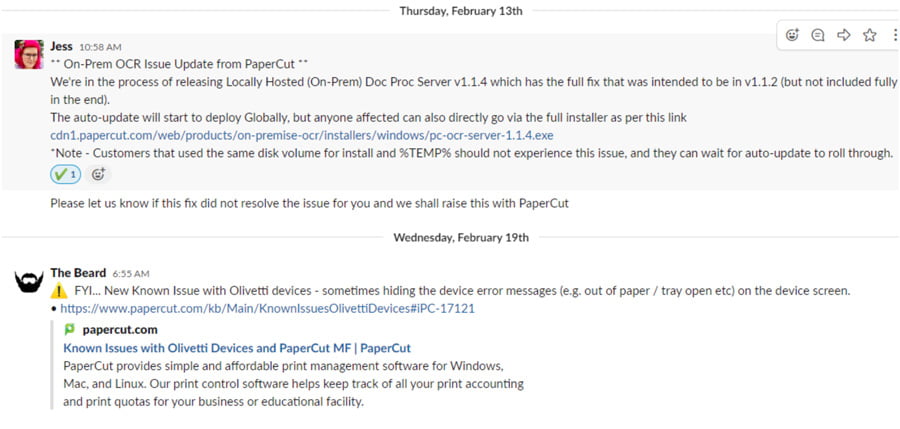 Let's not forget new software releases. Take PaperCut as an example, their release cycle is busy, if we ignore the main MF component you still have Job Ticketing, Mobility Print, OCR and Print Deploy auto-updating. Getting the version information in the hands of the guys selling and installing it every day is vital for success.

Relationships
People buy from people, right? Let's not forget how important relationships are; we want to be at the stage where we better understand everyone's personalities and work turns into much more fun. It also helps us build up a customer community on Slack, our eco-system helps each other and everyone benefits. Plus, it allows us to argue about what is better – Life of Brian or Holy Grail – with our valued partners (spoiler, it's Holy Grail).
Do you want more?
If you want to take it to the next level, you can find Slack integrations for most of the bigger help desk solutions like Freshdesk, Groove, Zendesk and Desk.com.
You can also pipe all of these into your CRM of choice and connect your VOIP service. There is a shedload of plugins for you to play with. Check them out: https://slack.com/apps
And the most important thing of all – it has a Giphy plugin! How many technical questions can be answered by a gif, I hear you say? A surprising amount!
This one is a popular choice for our dedicated support team.
---
What's Next?
So, this is how we roll, and it works, so give it a go. I leave you with a quote from one of our partners actively using the system.
"The recent addition of support via 'Slack' has been a great move. It enables easy transfer of files and images relating to issues, really opens up a more relaxed atmosphere to ask those "stupid questions" you perhaps wouldn't usually feel comfortable logging via a ticket or phone call!"
Lee Parker – Solutions Consultant, Utax
If you'd like to start using Slack for support questions, then get in touch with us and we'll get you set up.