Ricoh Android (SOP G2) and PaperCut
---
A PaperCut MF solution for Ricoh Smart Operational Panel (SOP) G2 (second generation) devices is coming soon, this will allow you to use PaperCut embedded for Ricoh Android devices.
As Ricoh SOP devices are gaining in popularity and availability this update will arrive at just the right time. To coincide with the launch PaperCut have refreshed the PaperCut MF for Ricoh Tour Page including a new walkthrough clip.
Running Android allows for an intuitive UI coupled with a snappy modern streamlined workflow. Other features include the often requested ability to select multiple jobs at the same time for printing or deleting from the queue and easy access to popular features.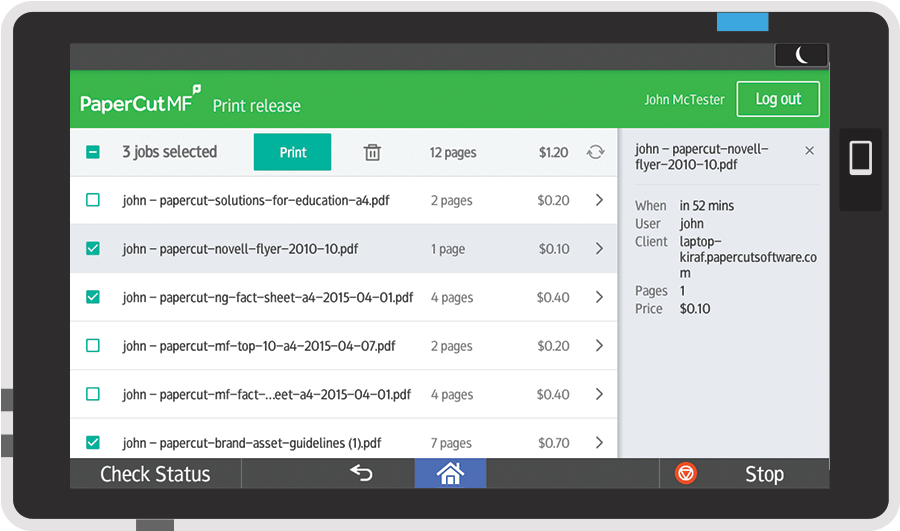 Easy access to home and back buttons.

Multiple job select for printing or deletion.

On demand print job details displaying using information such as:

How long the job has been in the queue
Username of sender
Computer name they sent the job from
Number of pages
Cost if printed
Ricoh Smart Operational Panel G2 FAQ:
What exactly is a SOP G2 device?
Smart Operation Panel (SOP) is a 10.1″ WSVGA (1024×600) Android-based panel for modern Ricoh devices. Generation 2 (G2) uses Android version 4.2.2 based on an ARM Cortex-A9 1Ghz CPU and 2GB of RAM
Was there a SOP Generation 1?
There was, but the first generation SDK lacked certain functionality for applications requiring authentication to take advantage of. Generation 1 (G1) was based on Android 2.3.4 based on an ARM Cortex-A9 533Mhz CPU and 1GB of RAM.
Is there an upgrade available for G1 SOP MFPs to G2?
Not that we are aware of. G1 devices would need to use the Java-based PaperCut Ricoh client.
Do current Java-based apps work on SOP G2 devices?
Yes, older devices run ESA/J (Java) and the new devices run SmartSDK (Android). For the near future, Java-based apps will work on G2 devices, but this may change.
Do you have a list of SOP G2 devices?
MP 501, 601, MP 305+, MP C306Z, C406Z, MP C2004, C2094, C2504, C2594, MP C3004, C3504, C4504, C5504, C6004, MP CW1201, CW2201, MP 2553, 3353, MP 6503, 7503, 9003
Please tell me we can finally track USB print jobs now
Oh yes Not at launch but we hope it will be included soon.
If you would like further info on the upcoming PaperCut embedded for Ricoh Android devices, please get in touch with a member of the team, who will be happy to help!
+

44 (0)1256 246970 | sales@selectec.com