PaperCut MF 15.1
---
PaperCut MF 15.1
This new version of PaperCut is feature packed and very exciting for new and existing users. There is a lot to talk about so let us get started.
First up we have support for two new embedded platforms. The Dell A4 C5765dn can now be embedded plus Xerox EIP 1.5 devices will now work with PaperCut MF. Many other platforms were updated with new features as well, be sure to read the release notes for the details.
The core server software has also been updated with various new enhancements. You can now track all changes made to users using the new Audit Logging tool.  As administration of PaperCut can be shared it is important to be able to audit changes made to users by admin staff.
For those working in secure print environments, you can make use of the document name hiding feature for those sensitive documents and make sure no one will be able to see what you are printing. Hiding document names wasn't possible before 15.1 but can now be applied per print queue instead of per server.
Anyone upgrading to Windows Server 2012 and worrying about Microsoft dropping support for LPD you can continue to support the OSX and Linux machines connected to your print servers by using the new PaperCut LPD service.
As well as these there are a lot of other new features and enhancements in this release like (the much requested) image support for web print and email2print and a couple of new print script recipes for Google Cloud Print and custom job timeouts.
Any questions about the new features in PaperCut MF 15.1? Get in touch with your account manager today on 01256 246970 or sales@selectec.com
As always, full release notes below.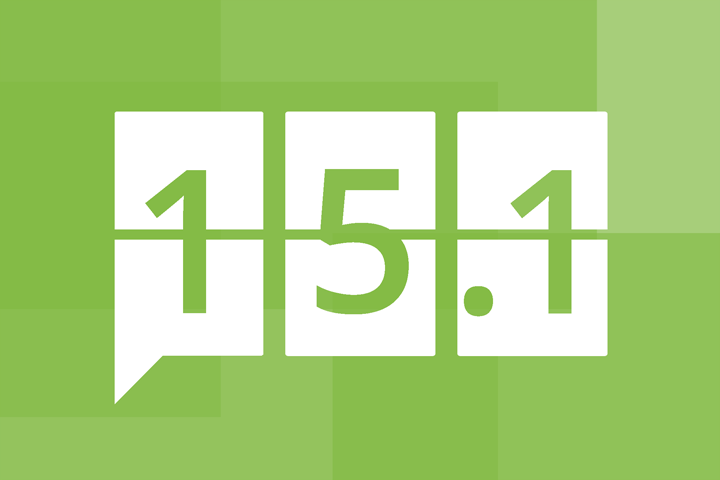 ---
18 June 2015 - PaperCut MF 15.1 (Build 33283)
---
New Features:
Audit Logging: Track changes to users within PaperCut. Audit details include who made the change, what attribute was changed as well as the previous and updated values.
PaperCut LPD Service: PaperCut now includes and LPD Service as a drop in replacement for Microsoft's LPD service which will be end-of-life from Server 2012. This will allow PaperCut to support customer's reliant on this printing protocol.
Images can now be printed using Web Print and Email to Print. All common formats (PNG, JPEG, TIFF, GIF, etc) are supported.
Enhancements:
Document name hiding for jobs in the Windows print queue can now be configured for specific queues via the Admin Interface.
Updated environmental metrics: The default values used for environmental impact calculations have been updated for new installs. Update values on existing installs via the manual.
Additional print script recipes:
Demonstrate the ability to apply a custom job timeout.
For Google Cloud Print users to bypass account selection requirements.
Added support for additional languages to the environmental dashboard.
Improved display of toner levels including updated handling of error cases.
Site Server: Improved display of server selection dialog for customers with large numbers of servers.
Release Stations:
Updated look and feel of print release stations.
Addition of total cost of pending jobs in web release.
Temporary printers created by the Novell iPrint client will now be ignored by the PaperCut Print Provider.
The App Log tab now contains more detailed logging for administrators monitoring changes to security and shared account settings.
To assist support:
Spool file snapshots can now be saved to network shares.
Option to automatically capture abnormal spool files.
Updated installations will now include the latest config files to use as a reference.
PayPal Payflow Link transaction reference now included in transaction logs.
PaperCut Global Print Driver: Now includes the EnvelopeDL page size.
Added a new column 'Last usage date' to the 'Printer List' CSV report.
There are now batch user import sample files available with the installation to complement documentation.
Fixes:
Fixed a minor issue resulting in an incorrect number of enabled Google Cloud Print printers being displayed on the Mobile/BYOD pages.
Prevented browsers interpreting saved login credentials as LDAP credentials on the User/Group Settings page.
Fixed an issue that prevented iOS devices accessing the User Web Interface with the Safari browser.
Fixed not being able to find child shared accounts using the 'parentchild' syntax (despite results being recommended in autocomplete).
Job Redirection: Fixed a rare issue where user based cost adjustments were not applied to jobs redirected from a color virtual queue to a grayscale physical queue.
Fixed a minor issue preventing a secondary email address associated with a deleted user being used again.
Fixed rare case of XPS jobs failing to process when using conversion filters on Linux print servers.
Printer Compatibility Improvements:
Add Hardware Page Count support for NEC devices.
PaperCut Global Print Driver: extended in-built transforms to enhance compatibility.
Improved PostScript page level color detection for documents created by Adobe Acrobat Pro.
Improved page level color detection for:
Kyocera PostScript printers.
PostScript printers using LibreOffice on Linux.
Acrobat on OSX.
Improved paper size detection for HP DesignJet T1300 plotter.
Copier / Device Integration:
Added swipe to logout support.
Added ability to customize header text color.
Added Embedded Application for Australia, New Zealand and Singapore.
Improved handling of card reads from unusual card reader configurations.
Added additional calls to cancel copy jobs that exceeded a user's balance.
Support for Dell C5765dn.
Fixed an issue where some Application Server version updates would fail to complete the embedded installation without MFD reboot.
Support for Fuji Xerox ApeosPort DMP-9 devices.
Fixed an issue where some Application Server version updates would fail to complete the embedded installation without MFD reboot.
Konica Minolta (OpenAPI):
Browser based pinch and zoom gestures are now disabled in iOption interface.
Implemented custom welcome messages for iOption devices.
Fixed an issue with some localizations when used with OpenAPI 3.x device type causing the device setup to fail.
Fixed a rare issue causing embedded application to fail when setting locale and language explicitly.
Fixed a rare issue causing custom icons to not display on some Lexmark devices.
Fixed an issue preventing users with advanced account selection options from being able to select their personal account on some devices.
Toshiba (e-BRIDGE Open Platform):
New feature to ensure users attempting to log on to a Toshiba MFP that is in out of paper will have access to copy functions denied. This feature is off by default.
Improved compatibility with latest Toshiba Firmware versions (handle new EWB Access permission).
Fixed an issue that occurred if a user had Shared Account PIN/code charging only.
Added support for print release and account selection on Xerox EIP 1.5 devices.
Other Notes:
This release DOES contain a database upgrade.
Devices marked with * require installing an updated version of the embedded software to access new features and fixes.