PaperCut Global Meetup 2017
---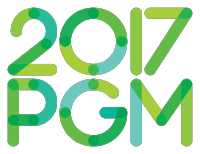 Most PaperCut ASCs attended the PaperCut PGM meeting in Melbourne, Australia this month. This is an event, held every eighteen months, where the ASCs learn about PaperCut's plans for the future, share ideas and experiences. PGM week is overflowing with strategy and direction, from product updates and roadmap plans to industry insights. It was a long way to go but a great time to swap ideas and bond with the global PaperCut family.
We sent three representatives this year and asked our channel and technical PGM attendees to write up their experience (after the jet lag had gone away).
Mike Barnard, Senior Pre-sales Manager
At the beginning of October, I had the pleasure of attending the PaperCut PGM in Melbourne Australia with my colleague Sian from our Channel Sales Team and Paul Weston our MD. This where a few members of staff from all the ASC's get to meet up and discuss everything PaperCut. There is a lot of knowledge sharing done between the ASC's as well as direct conversations with the developers that build PaperCut, very interesting to hear their visions on the product for the future. It is a full-on week and consists of many presentations and talks about the change in the marketplace, the way that manufacturers change their hardware and so how PaperCut changes to capture all of that.

Being a Pre-Sales techy person I am always keen to hear what is new as this is what can give us all the edge in winning a deal. We are all probably aware of Job Ticketing which should be launched in early 2018 (Not far away now), but one of the things that I am aware of having been in the industry for quite a few years is the change to how involved the MFD is now becoming in the whole business workflow. People want it to do so much more, scanning is becoming a much bigger requirement and I am glad to see that PaperCut are working hard on enhancing that capability within the software, so exciting times ahead.

A great thing that we did was to brainstorm killer features that we would like to see in PaperCut and I think we gave the product teams something to think about. I attended a breakout session where we discussed Technical Certification, and this is changing quite soon where you will be able to obtain certification to different levels so that your potential customers will be able to see that your technical staff have the competence to deploy PaperCut in the more challenging environments and so that they get the most from the product.
Sian Thurston, Partner Manager
I was very excited to be able to attend the PaperCut 2017 PGM. My aim in being out there was to meet the team and understand more their ethos and where the company was going and to also meet with the other ASC around the world and share ideas and practices that worked in this industry.

I already had an idea of their Ethos as they very kindly allowed me to bring my daughter with me and she was lucky enough to be hosted by various members of Papercut and their families. To me this highlights the importance of family and work-life balance, something I know Selectec is extremely passionate about and in my opinion, says a lot about a company and the values in their staff and it was good to see this was mirrored by papercut. We are all looking forward to the next PGM.
At PGM 2017, Selectec was presented with the 'Customer First' Award in recognition of delivering outstanding customer experience consistently and ensuring our partners and their customers are foremost in our thoughts. The means a lot to our front of house teams, it was a collective effort and we will endeavour to keep this up as we continue to expand our PaperCut presence outside of the UK. Upon receiving the award Partner Manager, Sian said she was:
Honoured to receive the award along with Mike and MD (Paul) on behalf of the fabulous crew here at Selectec.
Check out our short gallery of the event below, we are already looking forward to PGM 2019 and have safely tucked the award in the vault along with the rest. Oh and yes, Sian did go to the Home and Away set….
The PGM Team (Mike, Paul, Sian)

Helping out the boss

Team building event (lots of running)

"CHEESE" with our friend from ACDI

Cheers!

Award time

I would like to thank....

Time to say good bye
Please note: Sian does not drink as much as the photos suggest.