BLI 2018 Pick Award PaperCut!
---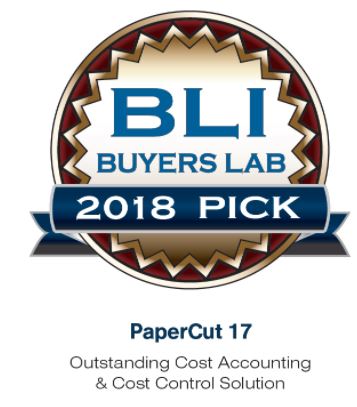 PaperCut v17 was named the Keypoint Intelligence BLI 2018 Pick Award winner in the Outstanding Cost Accounting & Cost Control Solution category! By Buyers Lab International. BLI's analysts said that PaperCut MF/NG v17 top the charts when it comes to cost savings, all thanks to the amazing features our partners and customers have.
Our friend, Chris Dance, CEO of PaperCut said
"We're thrilled to be recognized by BLI as the best solution to help save on print management costs for businesses of all types and sizes around the world,". "To be chosen alongside other document imaging leaders is a true testament of our industry standing and confirms our commitment to helping organizations manage their print-related resources – meaning our customers save money in the process. For businesses looking for a print management software, PaperCut is an easy-to-deploy, easy-to-use solution that's also easy on businesses' budgets."
Each product that passes BLI's tests are awarded a platinum, gold, silver or bronze ratings, with the best performers qualifying as Pick contenders. BLI's Document Imaging Software Picks are subjected to a rigorous 12-month testing cycle which evaluates products on their key attributes such as features, usability and value.
This award is the fourth BLI recognition that PaperCut has received. It won the 2015 Pick Award in Outstanding Print Management Solution, the 2012 Pick Award for PaperCut v12 in Outstanding Print Management Solution and the 2011 Pick Award for PaperCut v11.2 in Outstanding Cost Recovery Solution.
Download the report