The Process?
Building software in the same way that physical products are built does not work. In the past people naturally took assembly line production processes that worked well for physical products and applied them to software. Someone has to define it, someone has to design it, someone has to build it, someone has to test it and someone has to deploy it.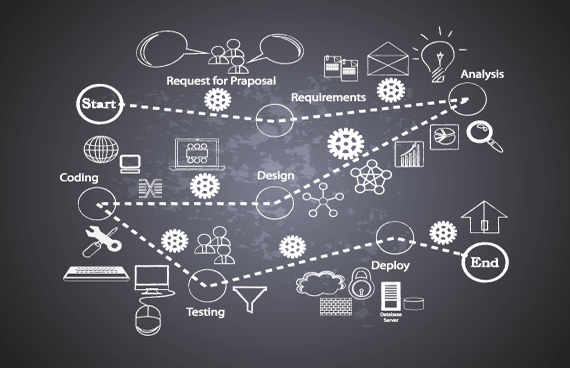 We strive to create an environment and processes that engage all participants to the best of their abilities. To achieve this, our pre-sales team will engage with you (and if needed your client) to discuss your requirements in detail before involving our developers, and they will….

Initial Request & Judging Feasibility
Work with you to understand the requirement, time-scales and business impact.
Quantify against current products and previous developments to determine a development estimate.
Liaise with our developers to determine the best way forward.

Kick-off
A Statement of Works (SOW) will be created detailing the requirements, conditions and scope.
Additional information or clarifications may be sought to pin down the project.
The estimate and schedule may be revised.
The SOW will be shared with the partner/customer for approval.

Design
Working with the partner and/or customer, development will gather detailed requirements and establish metrics.
An application design will be created.
Iterations of the application design may be required.
A proof of concept may be built and tested.

Coding & Building
The application design will follow the standard code creation process to beta.
Draft documentation will be written.
Testing and quality assurance will be performed.

Testing & Implementation
Installation at customer site with trial license.
Resolve any issues arising from installation or configuration.
Documentation will be completed.
Training will be supplied for support staff, partners and/or customer.

Hand-off
Customer approval for the application will be sought.
The hand-over to partner and/or customer will occur, and normal usage will commence.
The support period commences.
A full license will be issued.

Retrospec
We take the time to talk about what worked and did not work (internally) and then follow up with you to find out if expectations have been kept.
We also seek feedback to see if the solution requires further tweaks and adjustments once the system has been used in earnest for a few weeks.

Want to ask us about some of our current integration's (Artiion, ConnectWise, Cognito, Elite, Meridian, Proclaim, WisePay etc) or have a new client project around the corner?
Please do not hesitate to get in touch with your Account Manager
Or give us a call on 01256 246970