PaperCut 19.1
---
PaperCut 19.1

One solution for your print management and print queue deployment!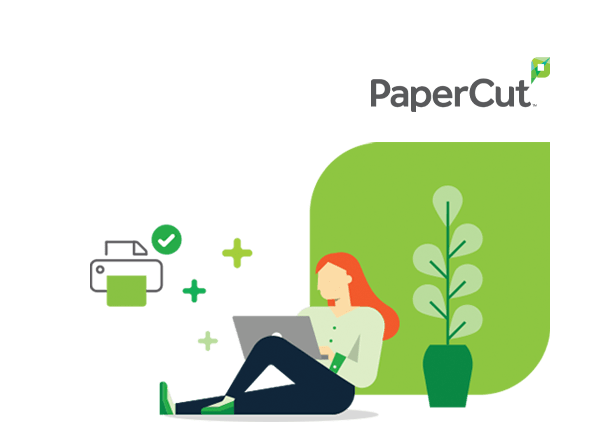 ---
The long-awaited release of 19.1 is finally here… as is the much-anticipated release of Print Deploy! This will do away with frustrating and time-consuming printer deployments leaving admins twiddling their thumbs (okay… in reality, taking the time to make more coffee). It also allows users to print from any MFP with no involvement from IT – yes, that's right; No. Involvement. From. IT. 🙂
---
Print Deploy
Print deploy allows you to automatically set the right driver and the right print queue to the right person… That should give your admins a few years of their lives back!
More cool stuff here:
Print queues are dynamically deployed as mobile staff move between branches, stores, or campuses.
Native drivers are installed along with default settings (grayscale, duplex etc) and capabilities (stapling, hole punching etc).
It doesn't matter whether printing to a server or directly to a printer in a print-serverless environment.
Mac and Windows computers are supported (with Linux and Chromebooks to come shortly).
There's support for computers that are not joined to a local domain (e.g. G Suite or Microsoft Azure AD).
Your customers will only need one application to manage their print queue deployments. Whoop.
If you'd like more info on Print Deploy, check this out.
---

Scan to SharePoint
Scan to SharePoint joins the list of other Scan to Cloud storage already available in PaperCut, including Google Drive, OneDrive, Dropbox and others. If you would like to set it up, you can do so by adding a dedicated scan folder on your team's SharePoint document library.
If you'd like more information on what Scan to Cloud offers, you can get it here.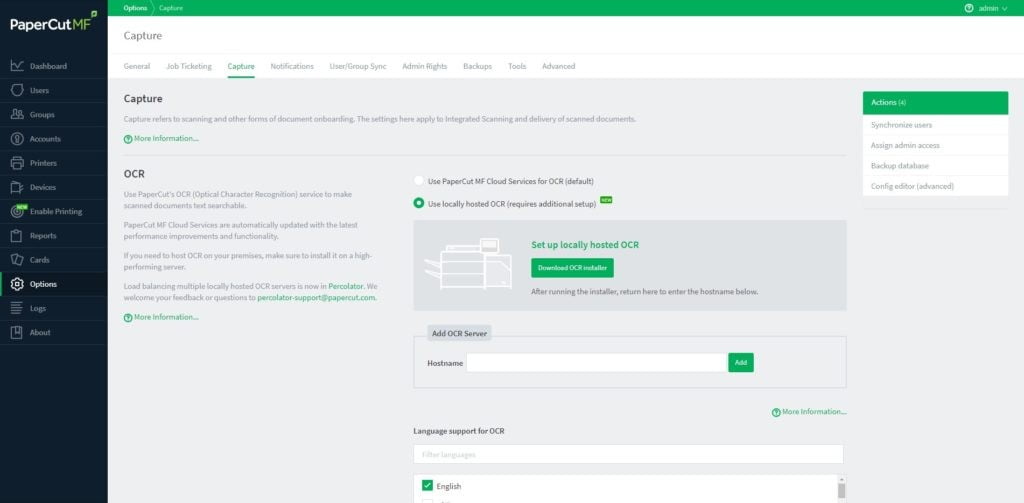 On-premise OCR
For those of your customers who still prefer to store their scanned documents on their own secure hosted IT systems.
The addition of the locally hosted OCR feature means that you can have OCR on your on-premise hosted documents.
With on-premise OCR you'll be able to add up to 10 languages, great for companies that work globally!
Speaking of languages… PaperCut has also added language selection at the MFD, great for countries that have multi-lingual teams! Once set by a user, their language preferences follow them across all devices.
You can read up on Cloud OCR which was released in 19.0 here.
Custom reporting and one-click report refresh
PaperCut has received lots of requests from users for this feature, and as usual, ask and they shall provide! (by the way, if you'd like to make a feature request, you can do so here)
For those who asked, you'll be happy to hear that they have added detailed reporting in PaperCut 19.1; you're now able to run reports that you've created in PaperCut using Jaspersoft Studio.
In addition to this, PaperCut has made available several popular reports for a one-click report option. These include:
Exec Summary Report
User Reports – Largest Print users
User Reports – User print/copy/scan/fax
User Reports – User printing – logs
User Reports – User configuration
Printer Reports – Printer usage – summary
Group Reports – Group print/copy/scan/fax
Shared Account Reports – Group print/copy/scan/fax
Transaction Reports – Transaction logs
Environmental Impact Reports – User environmental impact – summary
If you'd like to read up on the full release notes, you can do so here. Or, if you have any questions, get in touch with the team with your questions.