Job Ticketing for PaperCut
---
What's coming to Job Ticketing for PaperCut
Having worked with PaperCut for several years I am very much aware of how innovative their dev teams are. With the release of Job Ticketing back in February as part of the release of PaperCut 18.0.2. PaperCut's dev team further demonstrated their innovative nature. Job Ticketing brought a whole new way of working which allowed PaperCut to be used to improve the workflows of both Commercial and Education establishments which quite often have smaller print rooms.
Why we love Job Ticketing
The overall aim with Job Ticketing was to provide a cost-effective solution of around £3,000 – £4,000 in an arena where most solutions were costing circa £30,000, as well as the added benefit of being able to be deployed in 2 or 3 days as opposed to closer to 30 days for the alternatives. Since its launch enhancements have been continually added to Job Ticketing and this can be seen by the fact that there has been in excess of 30 versions since launch, and no, these have not just been bug fixes these are genuine new added features!
For me, the big change is about to come with the planned new version of Job Ticketing that's being released around the end of November. This is a feature that a lot of people have seen as a key requirement, that's right we're talking about upfront job costing. It's one of the most frequent requests PaperCut was being asked for, and it will be in the next version of PaperCut's Job Ticketing.
You will be able to provide an upfront cost to the customer using the dashboard when they submit a pdf file for printing. You will also be able to, as default, see the price difference on options like stapling and lamination. It will have a fully customisable configuration, which will also enable you to apply premium prices for rushed deliveries and differing delivery options.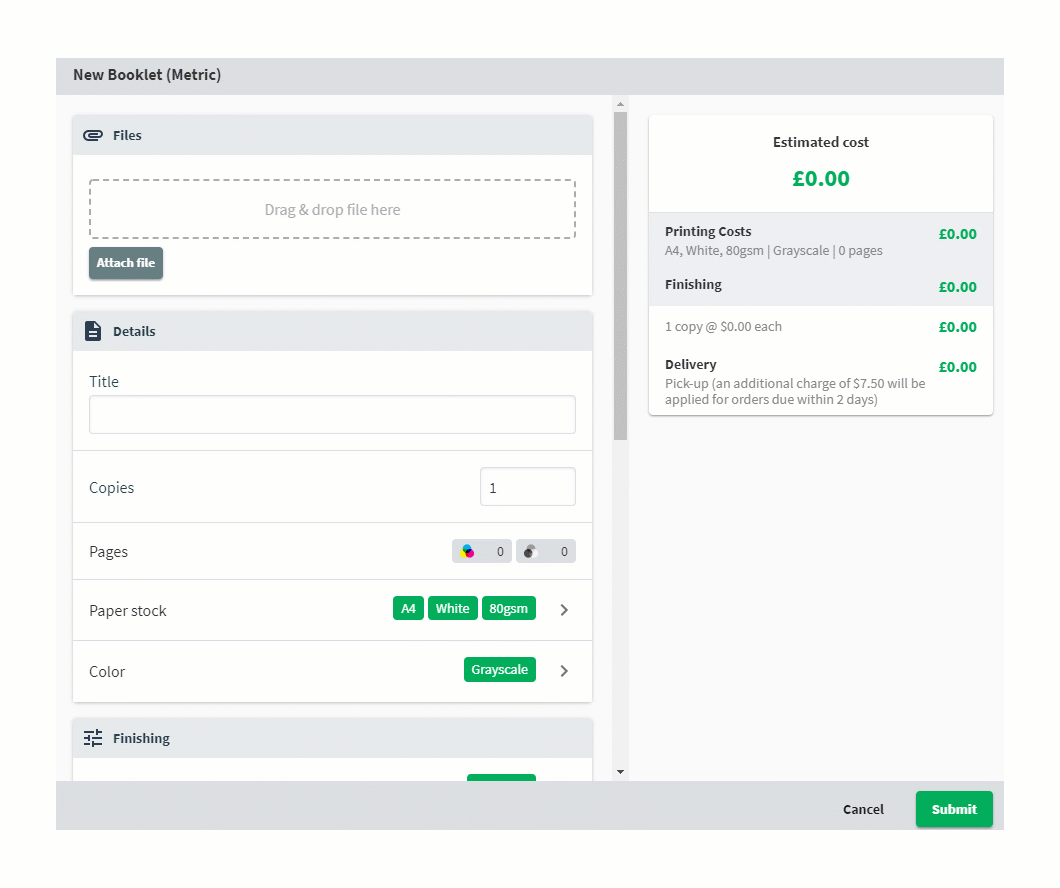 New Features Coming to Job Ticketing:
New upfront job costing
Customisable job pricing options (for rush deliveries, stapling, etc.)
Submit PDF files for printing
Why customers will love the new Job Ticketing
One of the things I like is the fact that as a customer, I can see the effects on the cost dynamically as I select them. This allows the user to avoid any nasty (price) shocks when the job is processed by the operator. Also, from the operator's point of view, they have the option to go in and amend costs if needed and present the new cost to the customer electronically. Users will be able to approve the new cost before printing starts (improving the user's experience), which operators will be updated on, on the user's acceptance.
Further to this, you can also request, for example, business cards where the customer does not need to upload a file they just select options made available to them (such as contact details, office location, or type of material) and the print room does the rest, no more phone calls or answering calls is my job ready?
There is one more feature that you should be excited about… For those opportunities that don't require the full-featured version including costing there will be a new low-cost option available!
How a user will benefit:
Clear upfront pricing structure
Easy to use interface, with clear instructions for file uploads
Clear communication via email support updates
How admins will benefit:
Update users on print progress
More print options leave little room for errors
Smaller organisations can benefit from a reduced-feature version
All this information is available in the Job Ticketing client access which is part of the PaperCut Client which our existing users are quite often very familiar with.
If you'd like to know more, get in touch with our team, who will be happy to help you!